Article and Video CATEGORIES
Welcome, Maria Walen - New Program Director for GRACE
Image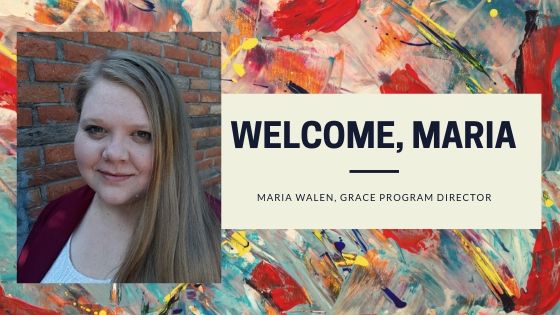 GRACE would like to introduce Maria Walen, our new Program Director. 
---
Maria will be in charge of details and planning for our programs, like the yearly Targeted Therapies Patient Forum and various OncTalks, as well as other new programs launching soon!  We are excited to have her with us! 
Here is a brief bio about Maria! 
Maria Walen- a Dakota Girl at heart- grew up in Fargo, ND and went to Brigham Young University to study Arabic/ Middle Eastern Science.  During a summer off from school, she found a job at a hotel and fell in love with the hospitality industry. Before her move to Mandan to accept the position of General Manager of the Comfort Inn & Suites in Mandan, she managed four other hotels in various states. 
Leadership Style

I like an adapted "laissez-faire" style of leadership or management.  When you are able to coach or lead someone to become an independent agent to complete responsibilities, find solutions, and improve whatever they are working on it is wonderful.  Before they get to that stage though, I definitely like to see the details.

How are you involved in the community

I am currently serving on three Mandan Community Boards: Visitor's Fund, Growth Fund, and Community Beautification Committee.  I also am on the Board of Directors for Dakota Children's Advocacy Center and now Leadership Bismarck Mandan Alumni Association.  Along with my fellow project partners from our LMBA Class project, Mandan Flowers, we have created a non-profit organization called Growing BisMan with the mission to beautify the greater Bismarck- Mandan area through community enhancements designed to improve the economic vitality and livability of the area.   I am also involved in serving in my church and helped with planning the 2019 Brave the Shave event in Mandan: "Go Bowl, Bo Bald, Bo Gold for Kids".

 What improvement/ leadership books would you recommend reading?

 "Always Growing" by Jones Loflin
"Eat that Frog" by Brian Tracy

Random info:

Favorite Color Purple
Integrity is a driving force in my life and my work ethic
Love big lightning storms!!!!
Please feel free to offer comments and raise questions in our
discussion forums.
Join The conversation