Treatment Options From 5 Experts for People With Multiple Myeloma: An Interactive Decision Support Tool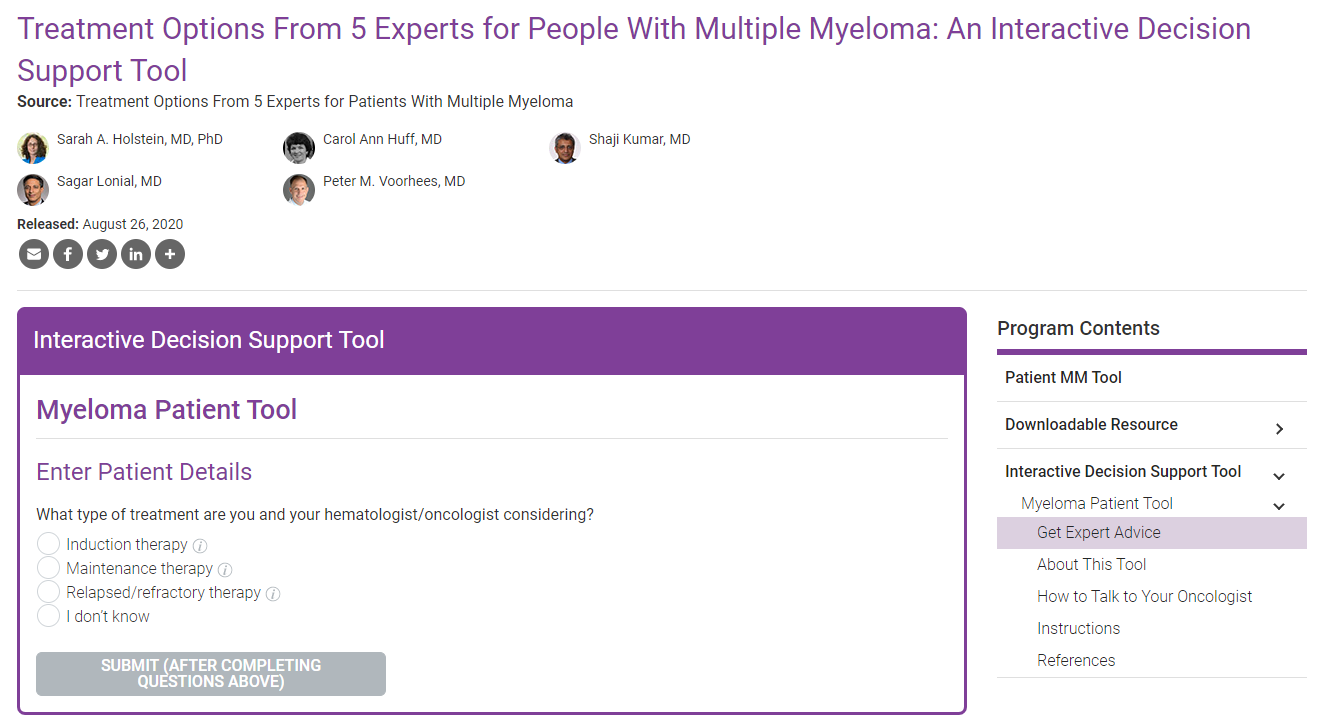 Have you received a diagnosis of multiple myeloma?
---
GRACE is excited to have again partnered with Clinical Care Options to develop an Interactive Decision Support Tool and downloadable resource to help you understand more about your disease and treatment options, so you can become partners with your oncology team in your cancer care. 
By answering multiple choice questions about your diagnosis, you will be able to review treatment options from five cancer experts for people with multiple myeloma listed below.  
---
Clinical Care Options LLC, is a global leader in the development of innovative educational programs and technology platforms. GRACE is pleased to work with CCO on a number of patient materials and tools to help our community in their cancer journey.  
The following list of decision support tools are available on our GRACE and Clinical Care Options Patient Tools partner page:
Treatment Options From 5 Experts for People with Multiple Myeloma

Treatment Options From 5 Experts for Patients With Ovarian Cancer

Expert Insights Interactive Decision Support Tool for Advanced NSCLC 

Information Regarding Immune Checkpoint Inhibitor Therapy

Educational Video - Immunotherapy for Advanced NSCLC: Discussing Goals and Treatments With Your Health Care Provider

Expert Insights Interactive Decision Support Tool on HER2+ Early Stage Breast Cancer

Expert Insights Interactive Decision Support Tool on Melanoma

Expert Insights Interactive Decision Support Tool for Frontline Follicular Lymphoma

Educational Videos -Measurable Residual Disease (MRD) in Acute Lymphocytic Leukemia (ALL)