Article and Video CATEGORIES
GRACE's Annual End of Year Appeal
Help Us As We Continue to Grow!
Image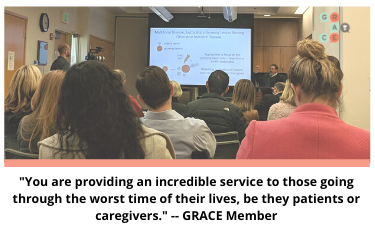 In this giving season, we thank you for your generosity.  Your donation helps thousands of people living with cancer become educated about their disease.  
---

Through this unprecedented year, GRACE has persevered.  We are continuing to bring you the most current and emerging educational content to help you in your cancer journey.  
We continue to work to fulfill our mission, and believe that Education is Medicine, perhaps more now than ever.  Empowering you to be a partner in your medical care through education about treatment options is an absolute necessity.  We are honored to be that platform for you.  
We are excited about what the next year will bring, with new programs in the works, providing up to date information in the rapidly changing world of medicine.  We continue to provide critical educational information to enable patients, families and caregivers to discuss management options with their medical team.  
---
We don't hold golf tournaments or galas to support our work, we depend on your support during our yearly End of Year Appeal.  Please consider supporting us again this year.  We need your support so that we can continue to provide the most current and emerging treatment options for cancer patients.  
Please ~ take this time to donate. Click here to donate online.
---
Please feel free to offer comments and raise questions in our
discussion forums.
Join The conversation