Article and Video CATEGORIES
Meet the 2022 Patient Education Ambassadors!
Image

GRACE is pleased to announce the acceptance of four rising stars into the 4th year of the GRACE Patient Education Ambassadors Program for the 2022-23 Program Year! 
---
All four candidates have shown a genuine passion for patient education and innovation in connecting with the patient community. The program will encompass the participants creating content that will be featured on the GRACE website, working alongside GRACE faculty, Board and staff, and learning the most current and effective communication skills needed to succeed at connecting and communicating with patients in their field. The program starts on July 1, 2022, and ends on June 30, 2023. We are excited to work with them over the next year to continue to educate cancer patients on the most current and emerging treatment options. Watch for new videos, articles, and podcasts featuring the passions that these four amazing fellows have to share with the community! 
---
Dr. Fernando Diaz  
Dr. Fernando Diaz is a second-year hematology-oncology fellow at the University of North Carolina at Chapel Hill.
Image
Dr. Diaz was born in Houston, Texas, and pursued medicine while living in Mexico, obtaining his medical degree from the Tecnológico de Monterrey School of Medicine. As a medical student, Dr. Diaz received awards from the American Society of Hematology which fostered an interest in research and Hispanic cancer disparities. Residency in Texas solidified his desire to pursue subspecialty training in hematology-oncology. He credits his patient-physician relationships for allowing him to understand the significant lack of educational resources for Spanish-speaking cancer patients that have inspired him to share clear, concise, and updated information.  As a current second-year hematology-oncology fellow at the University of North Carolina at Chapel Hill and a Cancer Health Disparities T32 fellow at UNC Gillings School of Global Public Health, Dr. Diaz's interests include patient education, Hispanic cancer disparities, and geriatric oncology.
---
Dr. Ashish Gupta  
Dr. Ashish Gupta is a hematology/oncology fellow at Roswell Park Comprehensive Cancer Center in Buffalo, New York.  
Image
He is a former chief resident in internal medicine and has received the Gold Humanism Honor Society Award.  Dr Gupta is passionate about medical education and mentorship. He has conducted a series of interviews with leaders in oncology and authored a book 'Pearls of Wisdom in Oncology: Key Insights, Traits, and Best Practices'. As a Grace Patient Education Ambassador he is looking forward to leading initiatives that help patients better understand their diagnoses and treatment plans using multimedia platforms.
His professional interests in oncology include epidemiological studies, using technology to optimize clinical decision-making, and integrating mind-body medicine.
Outside of work he enjoys spending time with his big family, cooking Indian food, and going on road trips.
---
Dr. Sridevi Rajeeve  
Sridevi Rajeeve is currently a Hematology-Oncology fellow at the Icahn School of Medicine at Mount Sinai.
Image
She completed her medical school graduating as the valedictorian at Mahatma Gandhi University in India following which she completed her Internal Medicine residency at Mount Sinai St. Luke's and Roosevelt Hospital in New York City. She has authored multiple peer-reviewed publications, presented at national and international conferences, and has secured foundation grants including the ASH HONORS grant (2019) and ASCO YIA (2022).
Dr. Rajeeve's foci of clinical and research interests are lymphoid malignancies (B-/T-lymphoma, myeloma) and cellular therapeutics. During her fellowship training, she has been engaged in outcomes research of patients with lymphoid malignancies, hypothesis testing in a translational lab transforming clinical management, and engaging in medical education and mentorship to rising trainees. She is committed to being a compassionate and competent teammate in the patient's care team advocating for balancing optimal clinical outcomes with meaningful survivorship. Following completion of her fellowship training, Dr. Rajeeve plans to continue working in academia as a junior investigator in an NCI-designated Cancer Center running collaborative trials, opening investigator-initiated trials, and serving as an educator and mentor for trainees interested in clinical trials and outcomes research.
---
Dr. Mazie Tsang  
Dr. Mazie Tsang is a current hematology/oncology fellow and T32 aging research fellow at the University of California San Francisco.
Image
She is triple trained in Hematology/Oncology, Palliative Medicine, and Aging Research, and she holds a master's degree in clinical research and epidemiology. In the Fall, she will start as an Assistant Professor in Hematology at Mayo Clinic in Arizona. She is passionate about patient-reported outcomes, decision-making, and improving the care of older adults with advanced cancers.
Dr. Tsang looks forward to learning new techniques to create meaningful content that can better educate and support older adults with hematologic malignancies. She enjoys exploring new places with her children and quality time with her family and friends.
---
Congratulations Drs. Diaz, Gupta, Rajeeve, and Tsang!
#AstraZeneca # ExactSciences #Exelixis #lilly #genentech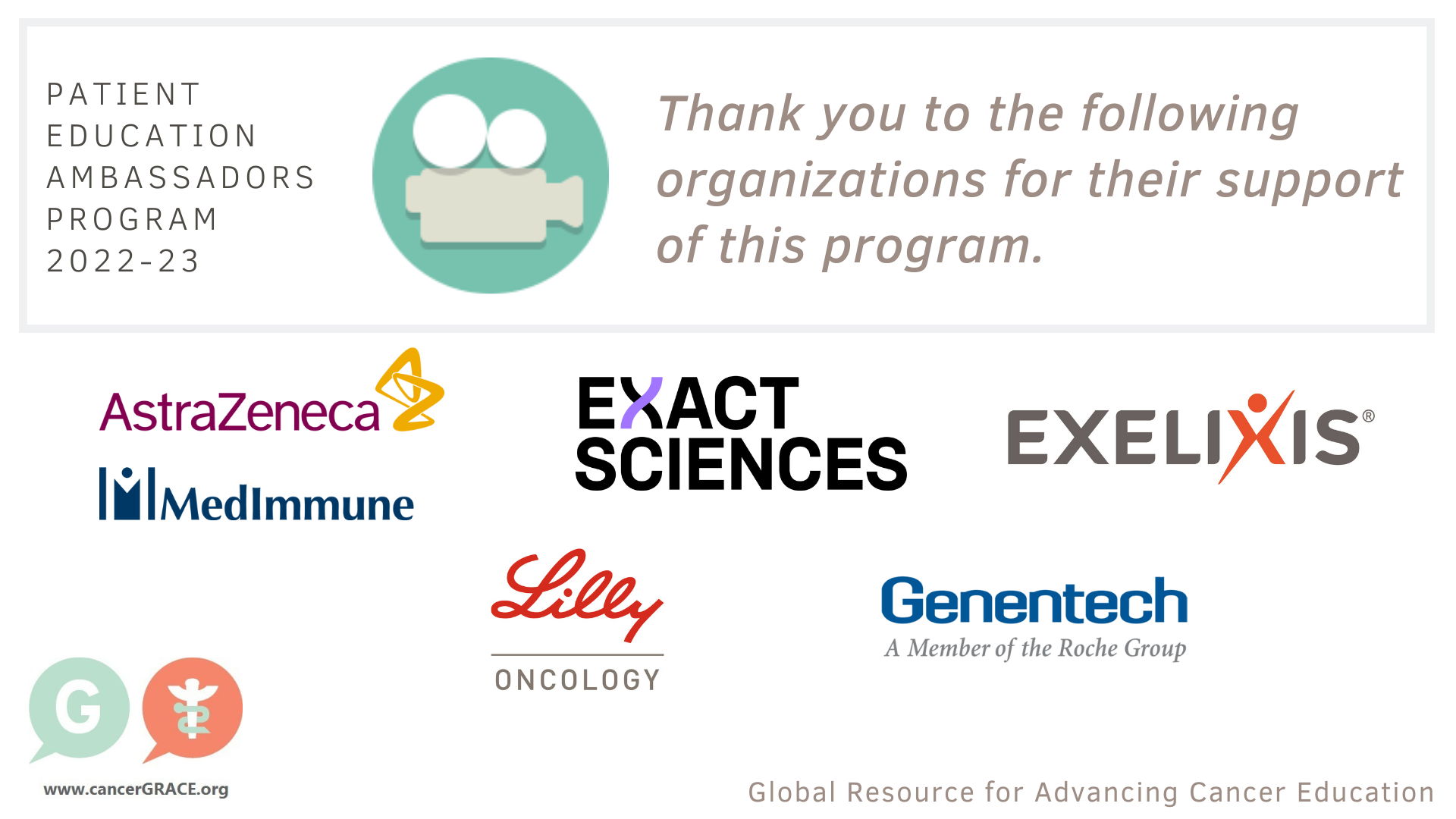 Please feel free to offer comments and raise questions in our
discussion forums.
Join The conversation