Join GRACE Live in Philadelphia for the 2019 Targeted Therapies Patient Forum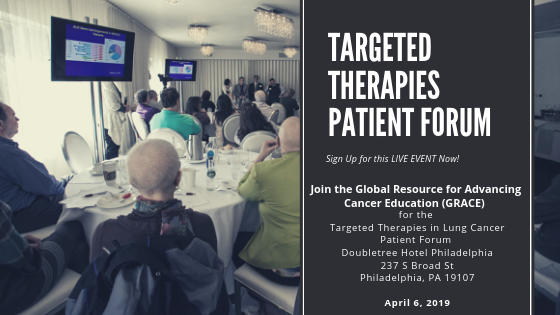 Register Now for the Targeted Therapies Patient Forum
---
Join our faculty April 6, 2019, in Philadelphia, PA to learn about the newest breakthroughs in Targeted Therapies for Lung Cancer 
Have a chance to talk with the doctors about the newest information in targeted therapies.  Some potential topics our faculty will be discussing include:
NGS: Current Status, Barriers and Emerging Targets
Liquid Biopsies as a New Option: How Does it Fit In?
What is the Role for Rebiopsy Today?
Presentations by Lung Cancer Subtypes - ALK, ROS1, EGFR, RET,MET, BRAF
Immunotherapy for Targeted Therapies - What Do We Know?
Controlling the Brain as a Separate Compartment
Online Communities - Support, Education & Partnership on Research
and time for discussion and Q&A
(**subject to change)
---