Article and Video CATEGORIES
What Is Precision Medicine?
Image

What Is Precision Medicine?
---
Many people I speak with are not familiar with the term "precision medicine" (sometimes referred to as "personalized medicine"). In recent years this field has come to the forefront of medicine, particularly in treating diseases such as cancer. Precision medicine offers the promise of customized healthcare to patients, based on an individual's genetics, environment, and lifestyle. This article gives a high-level introduction to precision medicine.
The Precision Approach
Healthcare practitioners throughout history have tried to find treatments that most benefited their patients, cured diseases, and did so by experimenting with different treatments then observing what worked and didn't, then recording the results. They also have relied heavily on others' past results. The ongoing goal in medicine is to have better outcomes, be precise and proactive in the approach and treatment of disease. In the past decade, the tools to take a more targeted, precise approach are more powerful and accurate than ever. There are electronic health records, genetic testing, and big data analytics. The latter, big data, loosely refers to the computing power, storage capacity, and access to massive amounts of data not just about individuals but across entire populations and other large sets of data.
Image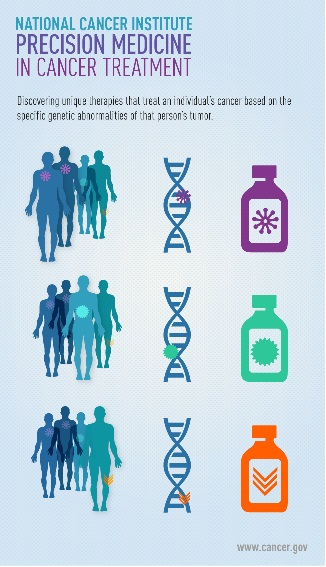 Saves Money...But Costs Money
Like other promising medical treatments, precision medicine has pros and cons, particularly with healthcare costs. Precision medicine can help doctors choose the right tests, prescribe the right medicines, offer targeted dosages, and reduce side effects. Genetic testing can also be expensive, some tests and treatments are not covered by insurance, and results of these tests can steer a patient towards further tests or treatments not covered by insurance. As the field continues to evolve we can expect costs to come down and insurance companies to cover more of these expenses as the effectiveness of precision medicine approaches is proven.
Precision Medicine in the World of Cancer
Cancer is a devastating disease affecting a great many people around the world. In the United States alone, in 2020, it was estimated 1,806,590 new cases of cancer would be diagnosed in the United States and 606,520 people would die from the disease.
Because of disease heterogeneity (meaning genetics vary from human to human and tumors can have different underlying genetic causes), standard treatments like chemotherapy or radiation are often effective only on a subset of patients. 
Cancer care is among the first medical specialties to apply precision medicine. Precision medicine looks at how a specific gene change (gene mutation) might affect a person's risk of getting a particular cancer or, if they already have cancer, how their genes (or the genes in their cancer cells) might affect treatment, how effective a particular treatment might be. Personalizing care, being more precise in approach, can reduce the harmful side effects of treatments and medications, reduce damage to healthy cells and increase the likelihood a given treatment will work.
All cancers are caused by one or potentially several genetic mutations that lead a cancer cell to grow in an uncontrolled way. An abnormal gene could make a person more likely to develop a certain type of cancer or an abnormal gene could affect how a person responds to a treatment for cancer. In other words, two people with the same type of cancer may have very different responses to treatment or require different treatment approaches. 
Precision medicine can test and analyze the genetic makeup of an individual's cells or the makeup of their cancer cells. Doctors can use this information to determine which medicines and dosages will work best for a patient. Doctors can also test and analyze the genetics of a tumor (tumor sequencing) to figure out the drug likely to have the best success against that tumor.
Genetic testing can also be used to look at family history and inherited gene mutations to assess risk and look at prevention. An example is a test for the BRCA gene, offered to people with a strong family history of breast cancer. A genetic test cannot predict if you will definitely develop a particular cancer, but it can tell you if you are at a higher risk than other people. Genetic testing has risks and limitations and can be a complex decision that may involve speaking with a genetic counselor. This article on Cancer.net discusses the topic in more depth.
Summing It Up
Precision medicine is an exciting field that is rapidly growing and evolving alongside the technology that supports it. The complexity of treating diseases like cancer can make it daunting to approach the topic. This is particularly true if you are involved in your own cancer journey or that of a family member. There is great promise for the future through research, expanded use of technology and new insights gained every day. 
As a technology geek, I appreciate when technology directly supports and advances other fields such as healthcare, science, and education, improving the quality and longevity of people's lives. I hope this overview is helpful, giving you a jumpstart to understanding Precision Medicine!
To learn more about precision medicine as it applies to cancer treatments or to learn more about emerging cancer treatments in general, please take advantage of the great resources offered on the Global Resource for Advancing Cancer Education (GRACE) website, https://cancergrace.org and explore the online forums to ask questions and find direction to additional learning resources: https://cancergrace.org/forums.
~ Tim Godfrey, Board Member, Global Resource for Advancing Cancer Education (GRACE)
 
Please feel free to offer comments and raise questions in our
discussion forums.
Join The conversation