Article and Video CATEGORIES
November 2019 Volunteer of the Month - Ramy Sedhom, MD!
GRACE is so honored to work alongside some exceptional volunteers. This month we recognize Ramy Sedhom, MD!
Image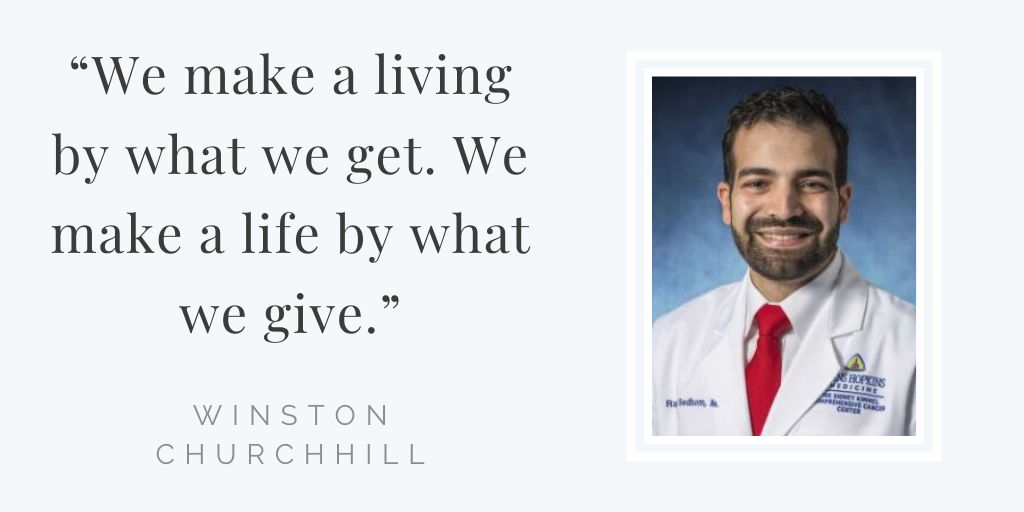 We couldn't do what we do without you, our volunteers!
---
From sharing their own philanthropic efforts, helping at the ASCO booth, admin and transcription work, to spreading pamphlets and information about GRACE, to writing informational articles for our community, we have been lucky to have some of the most amazing people volunteer their time and efforts to GRACE.
This month we are pleased to give a huge thank you to Dr. Ramy Sedhom!
---
Ramy Sedhom, MD, is a Medical Oncology Fellow at the Johns Hopkins Sidney Kimmel Comprehensive Cancer Center in Baltimore, Maryland. He is interested in Supportive and Palliative Care for patients across the cancer continuum - from a clinical, research, and policy perspective. Following his oncology training, he will be pursuing a clinical fellowship in Hospice and Palliative Care.
Ramy will be contributing to GRACE information on the treatment of bladder cancer - hopefully to allow patients to better understand how we decide on chemotherapy vs. immunotherapy, the testing used to tailor or personalize therapy, advances in the field and what we hope to accomplish as a community moving forward.
---
See more about Dr. Sedhom here!
---
Dr. Sedhom, Thank you!  Your expertise in the launch of our Bladder Cancer Program is invaluable as we fulfill our mission - to provide expert-mediated information on current and emerging cancer management options.   Your leadership of the bladder cancer program helps to expand our content library and the growth of the organization, and means so much for our community.  For those people dealing with the journey of a cancer diagnosis, the information you provide is a huge gift.  We appreciate and support all of your efforts.  We are GRACE because of people like you.   
The GRACE Staff
***would you like to volunteer with GRACE?  Fill out this volunteer form and a member of our team will get back to you! 
Please feel free to offer comments and raise questions in our
discussion forums.
Join The conversation